Yamaha Peringati 50 Tahun Terjun di Grand Prix Racing dengan YZR-M1 WGP
Brader sekalian tahun 2011 adalah very special moment dalam roda dua Yamaha yakni memperingati 50th Anniversary of World Championship Grand Prix racing . Dalam memperingati ini Yamaha Factory Racing akan gunakan special livery yskni 'YZR-M1 WGP50th Anniversary Edition' untuk Assen TT dan Laguna Seca races.Acara ini dimeriahkan oleh MotoGP World Champion Jorge Lorenzo dan 2010 Rookie of the Year Ben Spies yang akan mengendarai mongtor ini pada 22 June besok.
Livery yang unik ini berwarna merah dn putih "ciah kayak bendera Indonesia aja" didesain khusus ala Yamaha Factory Racing liveries masa lalu tapi dijejali unsur moderen. Ya, livery merah putih inilah yang bakal dikendarai Yamaha Factory Racing team riders yakni Jorge Lorenzo dan Ben Spies. Warna ini juga sebagai simbol penampakan dari segenap staf Yamaha para crew yang mendukung Yamaha Factory Racing team di pit box.
Sebuah logo 50th Anniversary juga akan dikenakan musim ini,logo ini akan dipasang pada fuel tanknya 2011 YZR-M1, juga pada baju seragam Yamaha Factory Racing Team, dan juga pada garasi Jorge Lorenzo dan Ben Spies, serta pada truk Yamaha Factory Racing.
.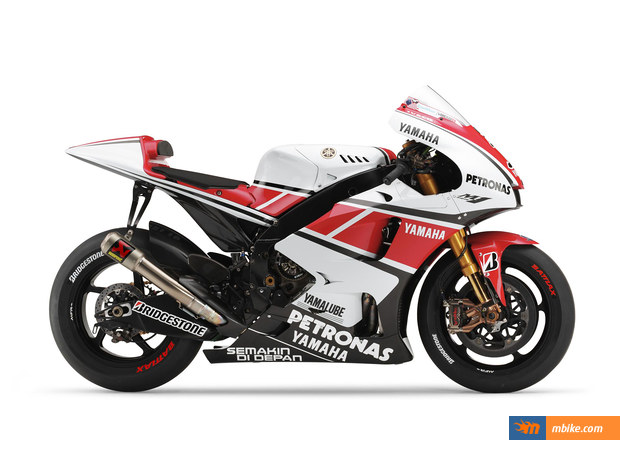 Peringatan Yamaha World GP 50th Anniversary ini juga dirayakan secara on line oleh www.yamaha-motor.co.jp/global/race/wgp-50th/ (English), Yamaha & Friend asuhan kang Mario Devan juga merayakan nggak ya!!!!. Ya, dalam website banyak sekali di sajikan sejumlah kilas balik perjalanan Yamaha di MotoGP dan juga kemenangan demi kemenangan yang telah diraih Yamaha di World Championship Grand Prix racing.